Discover more from Decode Estonian
Understand the system behind Estonian, and other languages. A deep dive into grammar, but this time it'll be fun.
Review: Workshop/12th of March
From anywhere to C1 in a day (almost)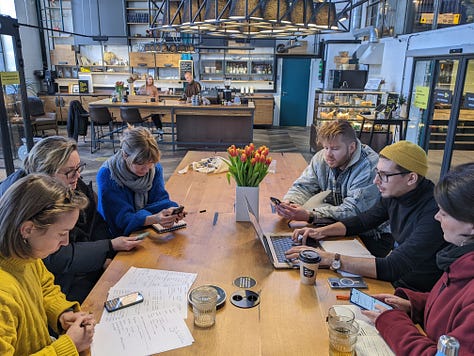 I've you have wondered what one of these workshops looks like in practice, here's a summary of what happened yesterday:
We gathered at Hektor between 10:00 and 10:30 and exchanged stories about:
what brought us to this workshop today,

what our expectations are for today,

and also what other languages we know already.
The amount of language experience represented yesterday was intense! The group as a whole had experience with German, French, English, Latin, Greek, Russian, Ukrainian, Turkish, and Kyrgyz 🎉
A whirlwind tour of the grammar
In the first half of the workshop, we covered almost everything there is related to nouns and adjectives.
After a 45 minutes lunch break, we tackled verbs next with fresh energy.
Luckily this is not just me talking, but there are lots of practical exercises and questions fielded by the participants.
The idea here is not that everybody remembers everything the first time they see it, but just to create awareness of all the things that are going on in the language (there are a lot of them!).
13 minutes and 26 seconds to victory
The final part of the workshop was resolving the big promise of being able to translate the news.
We split the group into two teams, picked a headline from the news, and had a little competition: both teams had to figure out the correct translation of the headline but also get all of the words right.
It took Team B 13 minutes and 26 seconds to finish, but ultimately both groups arrived at the right result:
they figured out all the details about all of the words,

and they managed to see the connections between the words to arrive at the right translation.
If you are curious, this is the sentence they translated:
Riigikogu kantselei loodab palgatõusuga personaliprobleeme leevendada
Where next
The groundwork for successful self-study of the language has been laid: everybody knows (and has demonstrated) their ability to use the dictionary correctly to identify parts of speech and learn the right base forms for words.
Translating sentences requires practice and the more you practice the faster you become and the larger your vocabulary will be.
For those who've completed the workshop, we're starting a study group to provide more translation practice and help each other.
Stay tuned!